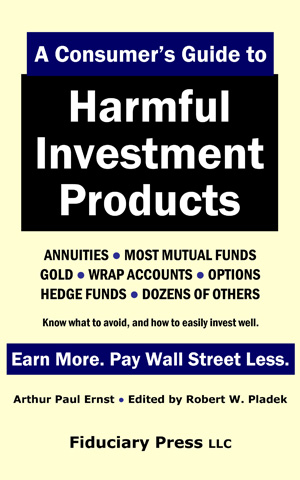 Art Ernst has an uncommon breadth of exposure to the formation, management, and sale of Wall Street products. Instead of drinking the 'Kool-Aid' to generate profits for himself and some sales-oriented firm, he has extended his fiduciary role to communicate important facts to the public at large.
Using language accessible to all readers, he wrote A Consumer's Guide to Harmful Investment Products.
Do you have, or are you considering annuities, gold, managed or sales-fee loaded mutual funds, options or wrap accounts?
Do you allocate assets based on your age, back test, chase winners, read charts, or try to time the markets?
These and several dozen other actively promoted products and schemes are exposed; superior alternatives are introduced.
Discover if you have harmful products or habits.
Learn how to shed and/or avoid them.
Never get ripped off by Wall Street again.